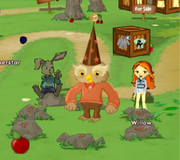 Note: The Wizard Summoning Circle was replaced by Mage Barrow.
See article Riddles for help on riddles!

The wizard summoning circle was located in Presto's Edge. Archimedes the Wizard could be summoned using one of three summoning words that cause him to start a game that everyone who is in Presto's Edge can play. The three summoning words and related games are riddle, guess and backwards.

The wizard floats down from the sky and appears in the middle of the circle. The rabbit sitting next to him is Timothy Hay and he points you to the three signs which contain scrambled versions of the summoning words.