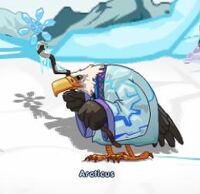 The Winter Wizard (his real name is Arcticus Frost and he claims to be better then all other wizards) appeared in January 2008 as part of the mission to remove Emperor Withering's chains from Dizzywood and return snow to the world.

He was summoned after the Fall Wizard destroyed the chains with his powerful autumn winds and then told players to find the Winter Wizard, who could make the air cold enough for the snow to return.

The Winter Wizard sends players on a mission to retrieve several items so that he can cast a spell to bring snow back to Dizzywood.

The Winter Wizard has returned to Dizzywood in 2009 with a new misson to find a special Key called the Crystal Key to unlock to lock on the crystal so we can visit him. The Crystal Key that was hidden by him is in The Chasm once you click on the activity and use levitate to get into The Chasm.