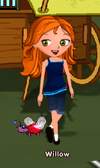 The TurtleBug is a rare and exclusive critter that is given to players who invite 25 or more friends to join Dizzywood.

If you are a Gold Explorer you can also get a TurtleBug through a Gold Explorer Mission.

When you found (or won) an Invite a Friend scroll, you can tell your friends the invitation code on it.
They can create a new Dizzywood account and insert the special code.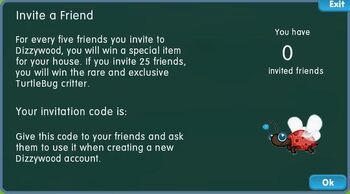 Ad blocker interference detected!
Wikia is a free-to-use site that makes money from advertising. We have a modified experience for viewers using ad blockers

Wikia is not accessible if you've made further modifications. Remove the custom ad blocker rule(s) and the page will load as expected.