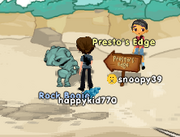 The Trick Towel is part of the April Fool's Day activities on Dizzywood.
It's given to you by a Rock Bogie in Breakwater Beach when you defeat him in a game of Word Race by guessing three words correctly.

When you walk on it you will flip in the air, just like you can do with a skateboard trick (even if you have no skateboard). Anyone else who walks on your trick towel will flip in the air.
Ad blocker interference detected!
Wikia is a free-to-use site that makes money from advertising. We have a modified experience for viewers using ad blockers

Wikia is not accessible if you've made further modifications. Remove the custom ad blocker rule(s) and the page will load as expected.