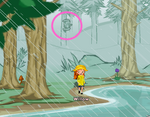 There is a tree house at the back on the right side in Wildwood Glen, you need a Grappling Hook and Rope to enter it.

When you have that item, click on the Tree House and play a long game of Jumper (where you have to take all honeycombs and avoid beehives).



In the tree house lives Spy Bear and he sells spy items (only one item per day):

HINT: You can find the Grappling Hook and Rope in a tree by stepping on the Air Grate in the Tanglevine Jungle.
Ad blocker interference detected!
Wikia is a free-to-use site that makes money from advertising. We have a modified experience for viewers using ad blockers

Wikia is not accessible if you've made further modifications. Remove the custom ad blocker rule(s) and the page will load as expected.