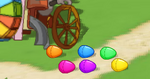 The toy eggs were given away as prizes for completing the Daily Events during Easter Weekend in March, 2008 called The Bjorn Bears Family Egg Hunt.




There were six colored eggs that were given away: orange, blue, yellow, green, purple, pink. The colored eggs can be dropped on the ground by anyone who has them. If you click on an egg you get a coin as a reward.
Ad blocker interference detected!
Wikia is a free-to-use site that makes money from advertising. We have a modified experience for viewers using ad blockers

Wikia is not accessible if you've made further modifications. Remove the custom ad blocker rule(s) and the page will load as expected.