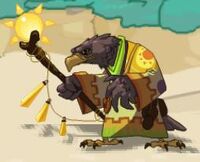 The Summer Wizard (His real name is Thermogenes Blaze) appeared in Farthing's Meadow on December 29, 2007 after the Spring Wizard was unable to destroy the giants chains placed in Dizzywood by the evil Emperor Withering. He sent players on a mission to retrieve several items he needed to cast a spell to destroy the chains with intense heat.

The Summer Wizard appeared again in April, 2008 along with the other weather wizards as part of the event to re-plant trees in Wildwood Glen.

The Summer Wizard made another appearance on August 2, 2008 after being summoned by players during a Daily Event. It was revealed in that event that the Summer Wizard can be summoned by using a watermelon, although it is not revealed how.
When he did appear in Presto's Edge, he was surrounded by watermelons used in the summoning. After arriving, he sent players on a mission to obtain thousands of bushels of Mirthwood Bark, Fracas Leaf, Butterfaux Root, and Whisperweed Stem to create a powerful potion needed to repair his magical staff and end the rain that was falling in Dizzywood.