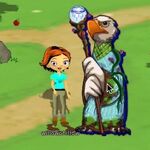 The Spring Wizard (His real name is Precipitus Bloomtide) appeared in Presto's Edge on December 27, 2007 and sends players on a mission to gather items so that he can cast a spell to rust chains that Emperor Withering has placed in Dizzywood. These chains hold huge belch factories in place that have caused all of the winter snow to melt.

The Spring Wizard later appeared in April, 2008 to help players on the Wildwood Glen missions.
Ad blocker interference detected!
Wikia is a free-to-use site that makes money from advertising. We have a modified experience for viewers using ad blockers

Wikia is not accessible if you've made further modifications. Remove the custom ad blocker rule(s) and the page will load as expected.