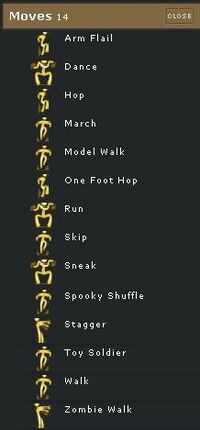 NOTE: We don't know for certain if all the moves still work.
NOTE: Dizzywood moves are now only available to Silver/Gold Members.

Dizzywood characters have various special moves that a player can manipulate. These can be done by clicking on the icon for each move located in your backpack (most of these are for silver members and gold members, although if you joined Dizzywood before the silver and gold memberships were introduced, you can still use them).

Move Master Swingtail is a character in Tanglevine Jungle. If you bring her a Mystical Move Scroll (you can find some of these if you open a Magical Secret Envelope), she will teach you how to perform the move and it will become an icon in your backpack.

NOTE: Since Dizzywood has changed the stone pillars are removed from Presto's Edge, so you can't walk between them to get a special move.

Known moves:
Arm Flail
Bunny Hop
Dance
Hop
March
Model Walk
One Foot Hop
Run
Skip
Sneak
Spooky Shuffle (available from the Onakasi Treasure Room only)
Stagger
Toy Soldier (available from the Onakasi Treasure Room only)
Walk (use the Walk move to return back to walk mode)
Zombie Walk
Ad blocker interference detected!
Wikia is a free-to-use site that makes money from advertising. We have a modified experience for viewers using ad blockers

Wikia is not accessible if you've made further modifications. Remove the custom ad blocker rule(s) and the page will load as expected.