Skyland Homes are now available for players to purchase from Brooke Lodgington in the Home Emporium. The homes are floating islands that can be decorated with furniture and other items.

When walking off the platform in Skyland, your character will fall like he/she does when falling off Skytown Skate Park, but instead of landing in Presto's Grove, you will land back in Skyland.

It is possible to preview Skyland by talking to Brooke in the Mansion Showroom (Skyland's current price: 5000 coins). There are also two more special housings that are unveiled, but not yet accessible: The Beach and The Wagon.
Skyland Expands to Hold New Dizzywood Housing
Edit
Written by dizzywoodexplorersjournal on June 9, 2008 – 9:16 pm -

The first record of this new and existing land was written by the Dizzywood Explorer's journal.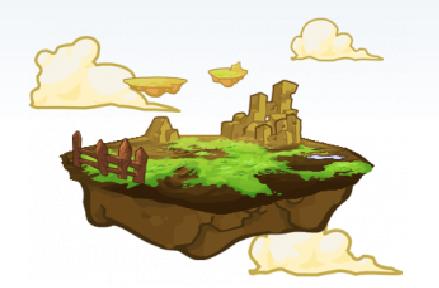 Dizzywood's civilization continues to grow as new Explorers make their way to this magical land. To make sure all new Explorers have a place to settle, Presto and the rest of the inhabitants of Dizzywood have been working together to expand Skyland. You'll soon be able to enjoy breathtaking views and access to new destinations for your everyday Explorer needs. We will keep you updated as more news rolls out.