The Sea Sprite is a brand new Sprite in Dizzywood and was introduced on 17, August 2008.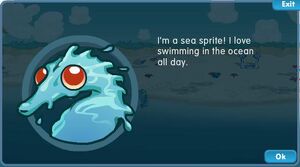 It lives at Breakwater Beach and loves swimming in the ocean all day. He appears to be actually made from water.

It gave you a clue for the Daily Event of the Dizzy Activity: Buzzing Trivia on 21, August 2008.
Ad blocker interference detected!
Wikia is a free-to-use site that makes money from advertising. We have a modified experience for viewers using ad blockers

Wikia is not accessible if you've made further modifications. Remove the custom ad blocker rule(s) and the page will load as expected.