All Dizzywood citizens have the opportunity to become a Pathfinder. To become a Pathfinder, a player must first find the groundhog Chief Pathfinder Burrows who is located in a dirt burrow at The Crystal Catacombs in the Jaguar Temple.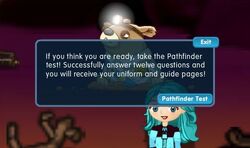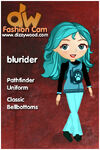 When clicked on he will pop out and ask you a series of 12 questions regarding Dizzywood. A player is only allowed one try per day so take your time in answering them. As a reward for answering all the questions correctly you become an official Dizzywood Pathfinder.

Reward for becoming a pathfinder includes:
Page guides from his friend Montana Jack to give to lost explorers.
An official uniform with a paw sign.
Top secret directives.
Eight guides to drop.

REMINDER: You may not be able to become a pathfinder until certain requirements are fulfilled: be an active member for at least 14 days, have the zap power, have a Bunnycorn and have logged in at least 5 times.