Olivia Kickflip's skateboard machine is a new game addition to Skytown Skate Park, you get here by zapping the giant cannon in Presto's Grove.
You can obtain
coins
and
Gold Skate Wheels
by playing the
Bounce
game. The game is played by moving your skateboard deck from left to right and bouncing skate wheels until they reach the safety of the table on the right side of the screen. You get 50 points for each skate wheel that is safely bounced this way.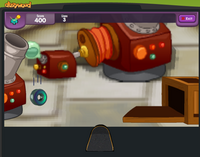 If you get at least 1500 points before losing all of your lives, you will get a Gold Skate Wheel, which you can give to Olivia Kickflip in return for coins. The more points you earn, the higher chances you have of receiving more Gold Skate Wheels.

Olivia Kickflip the skateboarding kangaroo used to give out Skateboard clothes, but you can buy them in the Skateboard Store just over the bridge now.