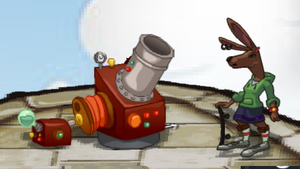 Olivia Kickflip is a new addition to Dizzywood. She is a skateboarding kangaroo. You can find her at Skytown Skate Park next to her skateboard machine where you can play Bounce.

Olivia had a lot of Skateboard clothes which she gave out to players daily and was more than happy to trade them in for Golden Skate Wheels. Olivia would only make one trade per player per day.

She now has a skate shop and does not give out Skateboard clothes anymore, but don't worry, all the clothes are now available in her skate shop. There is only one pair of pants but a lot of shirts.

If you win a Gold Skate Wheel with the bounce game and you give it to her, she will give you some coins.