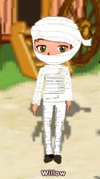 The mummy costume was given to all beta testers on October 31, 2007 as part of the Halloween Party in Dizzywood. Both boy and girl avatars were able to obtain the costume from a crate in Presto's Grove.

It was intended to be paired with the bandaged hair option in the choose your look menu. Although players can no longer get the full costume, they are still able to buy the mummy hat from the Clothing Shack in Presto's Grove.

The Mummy Costume returned as a Prize for boys on the Candy Corn Mission or from the store.
Ad blocker interference detected!
Wikia is a free-to-use site that makes money from advertising. We have a modified experience for viewers using ad blockers

Wikia is not accessible if you've made further modifications. Remove the custom ad blocker rule(s) and the page will load as expected.