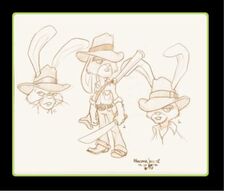 Montana Jack is an explorer, parodying Indiana Jones (because Indiana and Montana are states and their last names begin with J and are one syllable. They also have a similar outfit).

We know less about him than Emperor Withering, although there are drawings of him...

You can find some of his diary pages in the Jaguar Temple and The Crystal Catacombs.