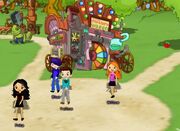 The Magic Mystery Wagon is located in Presto's Edge. You can spin it once every day and you will get all sorts and kinds of random prizes.

You can win different amounts of coins (usually 10 coins but sometimes as many as 200) or you might even win a skateboard or some Fireworks.

Any items you get that are classified as junk can be sold to Quill also in Presto's Edge (for a list of junk items see article Quill the Junk Vendor).
There used to be a bug with the game where you could spin the wheel multiple times at once to win lots of prizes but it was fixed.
Ad blocker interference detected!
Wikia is a free-to-use site that makes money from advertising. We have a modified experience for viewers using ad blockers

Wikia is not accessible if you've made further modifications. Remove the custom ad blocker rule(s) and the page will load as expected.