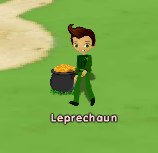 The Leprechaun appeared during the Daily Event of St. Patrick's Day in Dizzywood.

He appeared every hour during the weekend and left his Pot of Gold for players to find. Players who found it were rewarded with 500 coins and the shamrock emote.
Ad blocker interference detected!
Wikia is a free-to-use site that makes money from advertising. We have a modified experience for viewers using ad blockers

Wikia is not accessible if you've made further modifications. Remove the custom ad blocker rule(s) and the page will load as expected.