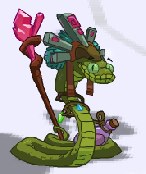 Kan the Geomancer is a snake located in The Explorer's Camp, just below the entrance to the Jaguar Temple (previously, he was located in Tanglevine Jungle).

He trades you coins for any Pink Crystal that you have formed by collecting pink crystal fragments in either the Jaguar Temple or The Crystal Catacombs.

Pink Crystals are worth 15 coins if it's poor, 30 coins if it is okay, and 50 coins if it is perfect.
Colored Crystals (blue, red, yellow, silver) found from the Mining Mission are worth 75 coins each.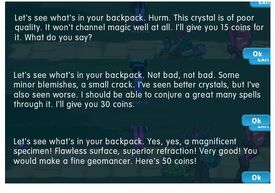 Kan will also transform Crystal critters retrieved from the Jaguar Temple. For 2000 coins Crystal critters will become live Critters.
To get a chromatic critter (meaning you have more colors to change it in) you will need a live critter, 1000 coins and a Green Crystal.