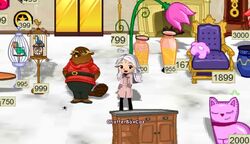 The Home Emporium is the largest and only furniture store in Dizzywood.

When you click on the Furniture Sign in Presto's Edge, it will take you directly to the Home Emporium.
You can purchase all of the furniture by clicking on the Buy tag next to each piece. The items are designed to look exactly as they will in your own home. Some of the items, such as wallpaper and floor tiles, can be clicked on to preview what they will look like in your own home.
NOTE: You can only purchase furniture if you are a Gold Explorer but you can get two pieces of furniture free if you look around in the emporium. You can get a round wooden table and a modern chair for free.

The several different showrooms in the Home Emporium can be accessed by clicking on the elevator (when you click on it you get a map of rooms like the Map of Dizzywood):
Blue Showroom
Party Showroom
Mansion Showroom (main showroom)
Apartment Showroom
Antique Showroom
Brick Showroom
Rug Emporium
Plant Nursery

Also know you can get a different room! You can get the Skyland room and soon you can get the Beach room or Garden room!
NOTE: If you click the elevator and click Leave Home Emporium, it teleports you back to Presto's Grove.
Ad blocker interference detected!
Wikia is a free-to-use site that makes money from advertising. We have a modified experience for viewers using ad blockers

Wikia is not accessible if you've made further modifications. Remove the custom ad blocker rule(s) and the page will load as expected.