Gilbert Square West is the first town in Canal City.
Mrs. Whiskercheeks (who is either a ferret or a weasel) is there with her cafe, where you can buy food or help her serve customers (NOTE: You need to be a silver or gold member to purchase food).
If you go up the path to the north you see Mayor Longullet (he probably has this name because he is a pelican).
If you go to the left of Mayor Longullet there is a package containing a party hat (NOTE: you can't wear it unless you are a silver or gold member).
If you go to the right of Mayor Longullet there is another package containing a construction helmet, which non-upgraded members can wear.
If you go up the multiple ramps (made easier by the Levitation power) there is an airship clerk. Step on the red carpet next to her with 3 friends and you will be transported to the "Endless Wild." Unfortunately it is hard for you to convince people to come up there with you to stand on it. However, if you are touring two or more people and stand there, it will count.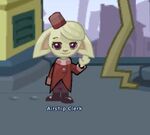 Ad blocker interference detected!
Wikia is a free-to-use site that makes money from advertising. We have a modified experience for viewers using ad blockers

Wikia is not accessible if you've made further modifications. Remove the custom ad blocker rule(s) and the page will load as expected.