NOTE: Dizzywood has changed so it's not there any more...

The Game Wagon is located near the entrance to Presto's Grove. Once you have logged in you will probably see it, it has a sign that says "Game Wagon" on it.

If you play all the games there, they will end up in your backpack, this will eventually give you access to the Keep out signs on different locations in Dizzywood (see articles Blocks, Bounce, Combo Drop and Flight for the missions you can play).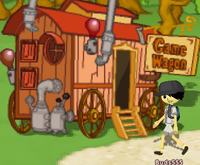 Ad blocker interference detected!
Wikia is a free-to-use site that makes money from advertising. We have a modified experience for viewers using ad blockers

Wikia is not accessible if you've made further modifications. Remove the custom ad blocker rule(s) and the page will load as expected.