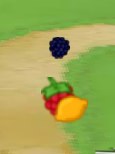 Fruits are small things that look like food on the ground all over Dizzywood. If you walk over them you will get one coin.

They are similar to some of the crystals which can also be found on the ground in some areas.

Fruits can be found in Presto's Edge and Presto's Grove.