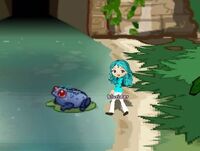 There is a Frog Sprite character here located at the river crossing of Tanglevine Jungle.
It hosts a lily pad Bounce game where a player bounces jumping frogs to the lily pad. Once completed a player is rewarded with coins.

This game is only available when you have it in your backpack (see articles Blocks, Bounce, Combo Drop and Flight for the missions).






Here are some words the Frog Sprite uses in his Word Race game for a mission:
6 letter words
7 letter words
Ad blocker interference detected!
Wikia is a free-to-use site that makes money from advertising. We have a modified experience for viewers using ad blockers

Wikia is not accessible if you've made further modifications. Remove the custom ad blocker rule(s) and the page will load as expected.