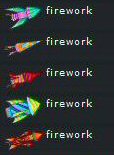 Fireworks are a new item to celebrate the 4th of July holiday in the United States. The fireworks are available from three boxes that are hidden in Dizzywood. Each time you find a box, you get 12 fireworks and each box can be found once every hour. The three boxes are hidden in Presto's Grove, Tanglevine Jungle and the The Explorer's Camp. The boxes are hidden behind trees and you need to use the Ghost Ray power to find them.

You can now get them as a prize in the Magic Mystery Wagon.
Ad blocker interference detected!
Wikia is a free-to-use site that makes money from advertising. We have a modified experience for viewers using ad blockers

Wikia is not accessible if you've made further modifications. Remove the custom ad blocker rule(s) and the page will load as expected.