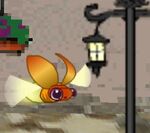 The Firefly Sprite appeared in Dizzywood on July 4, 2008 as part of a Daily Event.

He was hidden in The Crystal Catacombs, beneath the Jaguar Temple, but now he is in a lantern in Skytown Skate Park.

You can play a game of Force Field against him to earn coins and after you talked to Chanjo the Chameleon he can fix the broken Mining Helmet.
Ad blocker interference detected!
Wikia is a free-to-use site that makes money from advertising. We have a modified experience for viewers using ad blockers

Wikia is not accessible if you've made further modifications. Remove the custom ad blocker rule(s) and the page will load as expected.