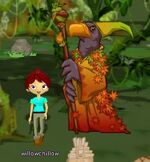 The Fall Wizard (His real name is Zephyr Northwind) appeared on January 2, 2008 as part of the mission to remove Emperor Withering's chains from Dizzywood and return snow to the world.

He was summoned after the Summer Wizard was unable to destroy the chains. The Fall Wizard sends players on a mission to retrieve several items so that he can cast a spell to destroy the chains with wind.
Ad blocker interference detected!
Wikia is a free-to-use site that makes money from advertising. We have a modified experience for viewers using ad blockers

Wikia is not accessible if you've made further modifications. Remove the custom ad blocker rule(s) and the page will load as expected.