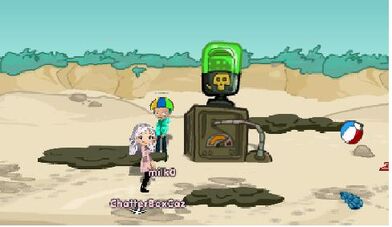 This is the Dizzy Activity for 27, July 2008. Called Ugh, Toxic Sludge.

We've had enough of Plumpox's disruptions, right! Unfortunately, he has made his way to our beautiful Breakwater Beach. He's got some piece of machinery that is leaking toxic sludge. Please dismantle his machine before it does more damage to our land!

The first thing you do is straight forward and obvious, you go straight to Breakwater Beach.You then walk along the beach and just past the beach tent you should see Plumpox's Machine with loads of toxic sludge around it. When you click the machine a message pops up...

You want to stop this toxic sludge? You'll have to defeat me and my sludge machine first!

When you click OK a game of blocks comes up, which you have to clear ten lines to complete. When you have done that another message pops up...

You may have beaten me this time, but next time it won't be so easy!

When you click OK on that, a You Got message pops up...

After click Awesome for that the lab coat will appear in your backpack under Clothes (top). To wear it all you have to do is click on it.
Ad blocker interference detected!
Wikia is a free-to-use site that makes money from advertising. We have a modified experience for viewers using ad blockers

Wikia is not accessible if you've made further modifications. Remove the custom ad blocker rule(s) and the page will load as expected.