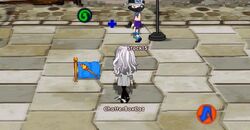 This is the Daily Event for 15, August 2008. Called Olympic Word Race.

Dizzy Olympians have been seen training everywhere. There have been plenty of winners proving they've got what it takes. If you think you're ready, look for the Blue Torch Flag and aim for a win.

First head up to Skytown Skate Park as that is were the blue flag is located. When there cross over the bridge and head towards the Firefly Sprite (nearer the salon). After that head down you should come across a blue flag, when you click it a message pops up saying...

Melinda Swingtail worked up a game for you that she promises will be a real head-scratcher. If you're well versed in the topic of Olympic Sports, you'll fly through this game with no problem! Go!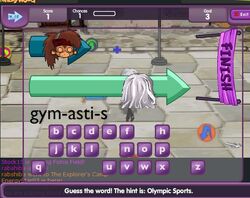 When you click OK a game of Word Race comes up, where you have to guess an Olympic sport. If you guess three right before you run out of lives then you have won if not you have to try again. When you have won a message pops up saying...

It looks like you knew more then Melinda thought you would! Good job mighty Olympian! Remember to drink lots of fluids and get rest, your memory will be put to the challenge tomorrow.

And that's it for today.
Ad blocker interference detected!
Wikia is a free-to-use site that makes money from advertising. We have a modified experience for viewers using ad blockers

Wikia is not accessible if you've made further modifications. Remove the custom ad blocker rule(s) and the page will load as expected.