This is the Daily Event for 13, August 08. It's called: Olympic Bounce

Last week, the Dizzy Olympic cauldron was lit marking the start of the Dizzywood Olympics. Presto and the rest of the gang trained hard, and are now bringing on the games! If you're ready to step up for your first challenge, head to The Explorer's Camp and look for the Black Torch flag. Good luck!

First head to the The Explorer's Camp, you will find the Black Flag near the wooden table and chairs. When you click the flag a message pops up saying...

Olivia Kickflip spent all last week tuning up her wheels for this momentous occasion. Prove you skills in this game and you shall be rewarded for you work!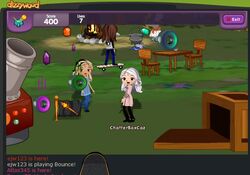 After clicking OK a game of Bounce comes up (like the one you play in Skytown Skate Park). You have to get 400 points before your lives run out. Once completed another message pops up saying...

Congratulations! You have won your first Dizzy Olympic game! Rest up, because the next game is sure to challenge your mind

You then get 250 coins, spend them wisely.

Now your done till the next event.
Ad blocker interference detected!
Wikia is a free-to-use site that makes money from advertising. We have a modified experience for viewers using ad blockers

Wikia is not accessible if you've made further modifications. Remove the custom ad blocker rule(s) and the page will load as expected.