This is an explanation of the Controls you can use in Dizzywood.
Movement: use your mouse to click on your destination.
Talking: click on the white area next to the picture or the whistle then click send or press Enter. Warning! Saying words that don't get past the filter will result in a 1 minute muting! (Also see: censorship)
See what people have been saying or doing by using the chat log.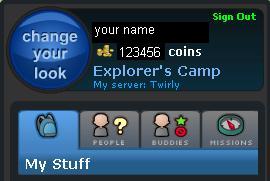 On the left of your info (username, number of coins, where you are and your server) is the "change your look" button, which does exactly what it says.
Stuff: which has all of your stuff hidden in your backpack until you click on the "open" button next to the tabs saying various things, like home, Garden, Powers, Clothing, Loot, Emotes, skateboards etc.

Crystal critters: you can format your critters by clicking on the critter button, click on the critter to drop them (so you can show people) and click on the box to choose their colors. This also works for plants, exercising equipment and beach towels.
Clothing: to customize your clothing, open the top, bottom or both clothing sections, depending on which you choose and click to wear them and click the box if you want to change the color.
Next is People: which lists all of the users in the area at that time in alphabetical order.
Next is Buddies: which is where you can view buddies/blocks and manage that (delete, unblock, etc.).
Last is the Missions: which shows what Missions you are currently working on, new Missions and Missions you have completed.