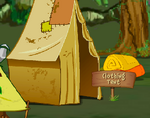 The Clothing Tent is one of the Clothing Stores in Dizzywood.
It is located in The Explorer's Camp.
The clothing available at the tent changes every few weeks.






Items Currently Available at the Clothing Tent:
Boys

#4 Long Sleeve Shirt
Canvas Jacket
Crinkled Pants
Denim Coat with Plaid Shirt
Giraffe Print Jacket
Long Wetsuit Bottoms
Plaid Boards Shorts
Plaid Boards Shorts 2
Ripped Jeans
Short Wetsuit Bottoms
Swirl Shirt
Swirls Shirt with Tie
Track Jacket
T-Shirt
Wetsuit Top Long
Wetsuit Top Short
Yummy Cupcake Shirt

Girls

Boot Cut Faded Denim
Floral Embroidery Skirt
Floral Embroidery Sweater
Graphic Tank Top
Graphic Tank Top (2)
Khaki Bellbottoms
Khaki Bermuda Shorts
Love T-Shirt
Mint Leaf Long Coat
Plain Skirt
Skull T-Shirt
Slim Fit Dark Jeans
Sparklevine Flowers Long Coat
Sparklevine Flowers Skirt
Spring Flower Long Coat
Surf Long Shorts
Surf Long Shorts (2)
V-cut Shirt
Wetsuit Bottoms Long
Wetsuit Bottoms Short
Wetsuit Top Long
Wetsuit Top Short
Ad blocker interference detected!
Wikia is a free-to-use site that makes money from advertising. We have a modified experience for viewers using ad blockers

Wikia is not accessible if you've made further modifications. Remove the custom ad blocker rule(s) and the page will load as expected.