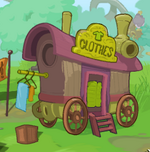 The Clothing Shack is located in Presto's Grove. It is one of the Clothing Stores available in Dizzywood and it is one of the first places that new players visit upon their arrival in Dizzywood.

It used to be a large store with many items for purchase, but when Presto's Grove was redesigned in September, 2008, the store only offered a few items. The main store was relocated to Presto's Edge and is now called the Clothing Booth.
Ad blocker interference detected!
Wikia is a free-to-use site that makes money from advertising. We have a modified experience for viewers using ad blockers

Wikia is not accessible if you've made further modifications. Remove the custom ad blocker rule(s) and the page will load as expected.