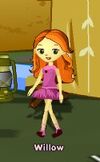 The ballerina outfit was given to all girl beta testers on October 31, 2007 as part of the Halloween Party in Dizzywood. Only girl avatars were able to obtain the costume from a crate in Presto's Grove.

The ballerina outfit made a second appearance in Dizzywood on January 18, 2008 when it was given away for free in the Rock Maze but only for one day.

The costume was also available for Halloween 2008.
Ad blocker interference detected!
Wikia is a free-to-use site that makes money from advertising. We have a modified experience for viewers using ad blockers

Wikia is not accessible if you've made further modifications. Remove the custom ad blocker rule(s) and the page will load as expected.