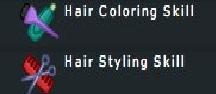 Amelia Vermillion is the newest and only professional hairstylist in Dizzywood. You can get the Hair Styling Skill and the Hair Coloring Skill by helping Amelia retrieve her precious equipment for styling peoples hair in her Flight game. She is located in Skytown Skate Park in her shop along the back row of buildings. You need to click on the red doorbell near her door to talk with her.

Once you have earned her skills, they will appear under powers in your backpack.

NOTE: The best way is to have 3000 coins ready before you play the game, otherwise you have to play her game again.
NOTE: If you have both skills the red doorbell is deactivated.
The skills
Edit
Walk around and ask your friends if they would like their hair done. If they say yes, make sure to leave them looking fabulous (they are after all putting all trust in your hands!).

As they are fixing you up, you will notice some session notes in the window next to you that lists various questions. Those are there to help you tell your hair stylist how they are doing. Answering some of them will help your friend know what you want.
Press the big blue Save button when you like what they have done, and you'll be ready to go on your way and show it off! But wait! You forgot one more thing. Don't forget to say thanks for a job well done, and add them to your buddy list, that way you'll know where they are next time you have a hair emergency.
Ad blocker interference detected!
Wikia is a free-to-use site that makes money from advertising. We have a modified experience for viewers using ad blockers

Wikia is not accessible if you've made further modifications. Remove the custom ad blocker rule(s) and the page will load as expected.