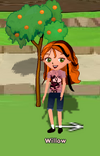 The AllyKatzz Splash T-shirt is one of the shirts that you can win by playing the vine game in The Garden Gazebo.

To play the game you need to grow the vines on one of the columns near the back of the area. If you get friends to help you grow the vines, the game ends faster.

There are several t-shirts that you can win in this game.
Ad blocker interference detected!
Wikia is a free-to-use site that makes money from advertising. We have a modified experience for viewers using ad blockers

Wikia is not accessible if you've made further modifications. Remove the custom ad blocker rule(s) and the page will load as expected.