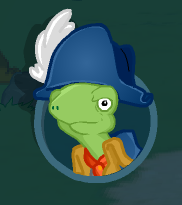 Admiral Hawksbill is a recurring character in Dizzywood, but unlike many other NPCs he doesn't stay fixed in one spot. He usually appears as part of the Daily Events or Missions.

Most recently, he appeared as part of a mission called Find Admiral Hawkbill. To get the mission, you need to first click on the missions on the tab and select the Find Admiral Hawksbill mission.

Once you have accepted the mission, he appears in Breakwater Beach. When you locate him, he gives you your own Admiral's Hat.
Ad blocker interference detected!
Wikia is a free-to-use site that makes money from advertising. We have a modified experience for viewers using ad blockers

Wikia is not accessible if you've made further modifications. Remove the custom ad blocker rule(s) and the page will load as expected.